The Global Geospatial Scholarship. A set of practical Remote Sensing and ERDAS IMAGINE professional online courses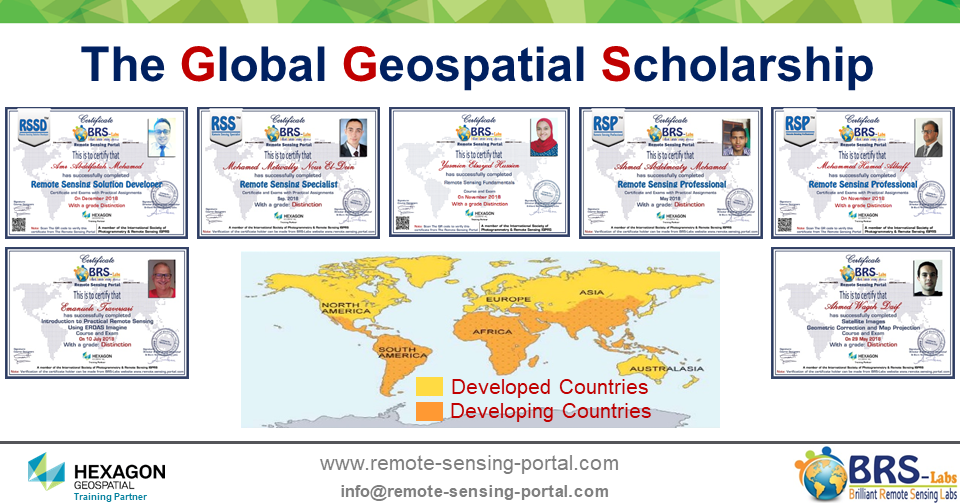 Brilliant Remote Sensing Labs is pleased to announce two Geospatial training and certification solutions. One for developing countries and the other for developed countries. These solutions enable mastering Remote Sensing and Satellite Image Processing online from home, and they include the following three international certificates; which are recommended by Hexagon Geospatial:
You can study and take exams from home, university or any place. You can select your suitable exam date from our exam schedule which is announced weekly. The courses and exams are available in two languages (English and Arabic), and it serves the following professions [Geography – Geology – GIS – Surveying – Petrology & Mineralogy – Urban Planning – Agriculture – Exploration - Computer Science & Computer Engineering – Information Systems – Irrigation Engineering – Roads Engineering - …. others]. Our two Geospatial training solutions are as follows:
First: For Developing Countries: We offer a scholarship for both undergraduate and post graduate students, in addition to academic staff members from universities and institutions in the developing countries shown below.
To enroll, find more details, or contact the responsible person, check the appropriate link from the following:
Note: The Scholarship doesn't include a Free Remote Sensing software, but, it can be delivered to students with a very special scholarship price.
Second: For Developed Countries: Although the scholarship is not dedicated to developed countries, we offer a 50% discount code valid only for undergraduate or postgraduate students who purchase at least one full certificate from [RSS, RSP, or RSSD] till the end of 2019. Otherwise, we offer paying in monthly installments (one course per month) in our standard prices. So, a trainee can pay $225/month and get a single course of the Certified Remote Sensing Specialist Certificate; which includes 9 short courses, or pay $250/month for a single course of the Certified Remote Sensing Professional Certificate (includes 4 short courses) and similarly the Certified Remote Sensing Solution Developer certificate (includes 3 short courses). To enroll & for more details for developed countries, request your 50% discount code and check our standard prices page. To request your discount code, contact info@remote-sensing-portal.com. A free student license of ERDAS IMAGINE software is included during your courses duration.
We are seeking to support the Geospatial community in all the world and we wish you all success.
A video of announcing the Global Geospatial Scholarship at the Library of Alexandria.