Pricing and Plans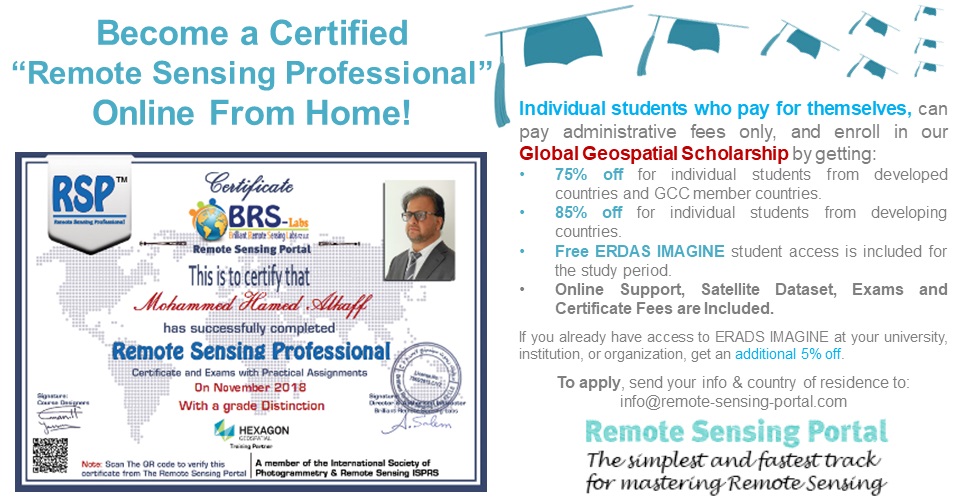 Important Notes:
- BRS-Labs offers its online remote sensing education & certification at a discount of 90% off for developing countries and 75% off for developed countries. The discount applies now to everyone (not only universities) on all courses. To enroll now, create an account by filling out the form at https://remote-sensing-portal.com/account/register/ and request your discount code from: info@remote-sensing-portal.com – Enroll with additional 2 friends to benefit from our group discount.
- The 75% offer includes FREE ERDAS IMAGINE 2020 Software during your training period and the 90% offer doesn't include software, but it can be added later upon your request through the previous email address after paying additional little fees.
- Prices include access to the online recorded video lectures, online open-book exams & practical assignments fees, issuing and sending online Certificates and free satellite images dataset for the practical work.
- These Discounts applies for individuals only, not for organizations.
- Courses no 1, 2 and 5 don't need any software, while all other courses need ERDAS Imagine software, knowing that course no 13 requires having ERDAS Imagine Expansion Pack.
– If you need assistance with purchasing ERDAS Imagine permanent license, please contact us to assist and link you with a Hexagon Geospatial reseller partner.
---